Your life has been plagued with loss. The instant you start to feel better again, your heart clenches at the thought of what sadness lies in wait for you just around the corner. Kit Bianci has lived her whole life this way, losing family and friends and safe places to call home. So, when she sees someone on the news who could only be the sister she thought was dead, she can't ignore it. She has to investigate.
She hops on a plane to New Zealand to find her once-dead sister, and her life changes forever.
Barbara O'Neal's When We Believed in Mermaids is a powerful story of love, loss, and the strength and resiliency of the human spirit. It is beautifully told from the perspectives of both Kit and her long-lost sister, Josie, tugging at the heartstrings and flooding the reader with raw emotion.
Kit and Josie are far from perfect, but they are strong and determined to move forward in life as best they can, spending each day atoning for and recovering from past mistakes.
I have to admit I may have a little extra love for this novel because the main characters are from my home state of California, but the story itself is so deeply moving; full of mystery and intrigue, wit and romance, and the simple thrills of catching an early morning wave, it's impossible not to become completely engrossed in it.
When We Believed in Mermaids is a truly beautiful novel. It's a new take on the classic family drama, and it is guaranteed not to disappoint.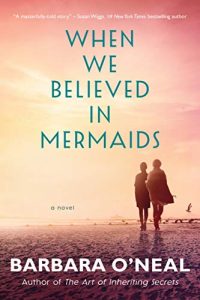 Paperback: 352 pages
Publisher: Lake Union Publishing (July 16, 2019)
From the author of The Art of Inheriting Secrets comes an emotional new tale of two sisters, an ocean of lies, and a search for the truth.
Her sister has been dead for fifteen years when she sees her on the TV news…
Josie Bianci was killed years ago on a train during a terrorist attack. Gone forever. It's what her sister, Kit, an ER doctor in Santa Cruz, has always believed. Yet all it takes is a few heart-wrenching seconds to upend Kit's world. Live coverage of a club fire in Auckland has captured the image of a woman stumbling through the smoke and debris. Her resemblance to Josie is unbelievable. And unmistakable. With it comes a flood of emotions—grief, loss, and anger—that Kit finally has a chance to put to rest: by finding the sister who's been living a lie.
After arriving in New Zealand, Kit begins her journey with the memories of the past: of days spent on the beach with Josie. Of a lost teenage boy who'd become part of their family. And of a trauma that has haunted Kit and Josie their entire lives.
Now, if two sisters are to reunite, it can only be by unearthing long-buried secrets and facing a devastating truth that has kept them apart far too long. To regain their relationship, they may have to lose everything.

Purchase Links
About Barbara O'Neal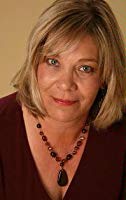 Barbara O'Neal is the author of twelve novels of women's fiction, including The Art of Inheriting Secrets, How to Bake a Perfect Life, and The All You Can Dream Buffet. Her award-winning books have been published in more than a dozen countries, including France, England, Poland, Australia, Turkey, Italy, Germany, and Brazil. She lives in the beautiful city of Colorado Springs with her beloved, a British endurance athlete who vows he'll never lose his accent.
Connect with Barbara
Instagram tour:
Thursday, August 1st: @hothanjama
Friday, August 2nd: @girlsinbooks
Friday, August 2nd: @readingbetweenthe_wines
Saturday, August 3rd: @readwithjamie
Saturday, August 3rd: @_ebl_inc_
Sunday, August 4th: @my_book_journey_
Monday, August 5th: @pieladybooks
Tuesday, August 6th: @dropandgivemenerdy
Tuesday, August 6th: @mermaid_ginger
Wednesday, August 7th: @jessicamap
Thursday, August 8th: @kimberleewilliams_realestate
Thursday, August 8th: @booktimistic
Friday, August 9th: @jennblogsbooks
Saturday, August 10th: @wherethereadergrows
Review tour:
Monday, July 15th: Patricia's Wisdom
Monday, July 15th: @simplykelina
Tuesday, July 16th: Kendra Loves Books
Wednesday, July 17th: Reading Reality
Thursday, July 18th: Literary Quicksand
Monday, July 22nd: Palmer's Page Turners
Tuesday, July 23rd: Erica Robyn Reads
Thursday, July 25th: Jathan & Heather
Friday, July 26th: Thoughts on This 'n That
Monday, July 29th: Sincerely Karen Jo – author guest post
Wednesday, July 31st: Cheryl's Book Nook and @beastreader
Thursday, August 1st: Amy's Book-et List
Friday, August 2nd: Not in Jersey
Friday, August 2nd: Lori's Reading Corner – author guest post
Monday, August 5th: Broken Teepee
Wednesday, August 7th: Girl Who Reads
Thursday, August 8th: Diary of a Stay at Home Mom
Friday, August 9th: Kahakai Kitchen
Monday, August 12th: Openly Bookish
Tuesday, August 13th: Treestand Book Reviews