Story: The Huntress follows three converging story lines featuring a Russian female bomber pilot, a relentless former journalist turned Nazi hunter, and a 17-year-old aspiring photographer. Buried secrets, painful loss and an interesting look at family ties bind these characters to one another in ways they aren't entirely aware of and certainly aren't comfortable with. Bouncing from pre-war to post-war and everywhere in between, author Kate Quinn follows a quest for justice in a time when people were desperate to forget – or at least ignore – the past.
She was not used to being hunted.
Why: I read a lot of historical fiction, but most of it is within the 20th Century. I don't go much earlier than that, and as a result, many of Kate Quinn's novels fall outside of my reading habits. When I saw she was working on another WWII era title, I was thrilled! I had the pleasure of chatting with Ms. Quinn after The Alice Network was released, and she is such a down-to-earth person that I like to describe as someone I want to go hang out and have a beer with! She is one of my favorite authors, and I'm so happy to have had a chance to read her latest piece of art!
She was born of lake water and madness.
Opinion: I loved The Alice Network, and had high expectations for The Huntress. To some degree, I suppose I thought the two would be similar. Strong, confident female characters. War-torn Europe. Split narrative. Maybe a little romance. While much of that is true and both are incredibly engaging, I found them to be very different reads. For example, there was an almost comedic undertone to pieces of The Alice Network that I didn't catch with The Huntress. The latter feels more like it would make a suspense or thriller movie, which would not be hard given Quinn's extraordinary ability to share detail without overloading a reader.
One of the other aspects of Quinn's writing that I appreciate – and is evident in this book – is the ability to develop characters while also providing a broader scope of the history they are living. These aren't the most well-developed characters I've ever read about, but there are levels and intimacies created that give them depth and make them feel genuine. This doesn't detract from the action, however, and there is a great sense of the breadth of the war and how each character is connected to it. For me, a prime example of this is the rationalizing of actions taken during the conflict. This comes up consistently and really provides a sense of what Europeans in particular were contending with in the years after the war.
The sky was Nina's lake.
Recommendation: Even though this novel is over 500 pages, you should still do yourself a favor and read it! The plot is well-paced and keeps your interest throughout. The language is a bit raw and somewhat explicit at times and is best suited for adult readers. I believe my fellow WWII junkies will appreciate Quinn's thorough research, while those readers looking for a powerful story will get the action they want without feeling like they are receiving a history lesson.
The story was a razor in print form.
Journaling Prompts: (If you haven't read any of my other reviews, I enjoy putting together a few questions about the book for those that have already read, or choose to read the book after viewing this post!)
How do birds act as a symbol throughout this book? Is it unique for different characters?
What about water. Each character finds themselves at a lake, but how does water act as a symbol or theme throughout this book?
The title may indicate one "huntress," but each of the main characters is hunting something. What is it, and do they find it?
Besides Jordan desiring to be a photographer, photos come up throughout the novel. How many instances can you think of? Why are these moments important?
Questionable alliances comes up repeatedly throughout this novel. Some examples being: Annaliese and Jordan, Ian and Tony, Ian and Nina, Nina and her father. How do their differences establish their connections?
About The Huntress
Bold and fearless, Nina Markova always dreamed of flying. When the Nazis attack the Soviet Union, she risks everything to join the legendary Night Witches, an all-female night bomber regiment wreaking havoc on the invading Germans. When she is stranded behind enemy lines, Nina becomes the prey of a lethal Nazi murderess known as the Huntress, and only Nina's bravery and cunning will keep her alive.
Transformed by the horrors he witnessed from Omaha Beach to the Nuremberg Trials, British war correspondent Ian Graham has become a Nazi hunter. Yet one target eludes him: a vicious predator known as the Huntress. To find her, the fierce, disciplined investigator joins forces with the only witness to escape the Huntress alive: the brazen, cocksure Nina. But a shared secret could derail their mission unless Ian and Nina force themselves to confront it.
Growing up in post-war Boston, seventeen-year-old Jordan McBride is determined to become a photographer. When her long-widowed father unexpectedly comes homes with a new fiancée, Jordan is thrilled. But there is something disconcerting about the soft-spoken German widow. Certain that danger is lurking, Jordan begins to delve into her new stepmother's past—only to discover that there are mysteries buried deep in her family . . . secrets that may threaten all Jordan holds dear.
In this immersive, heart-wrenching story, Kate Quinn illuminates the consequences of war on individual lives, and the price we pay to seek justice and truth.
About Kate Quinn
Kate Quinn is a native of Southern California. She attended Boston University, where she earned bachelor's and master's degrees in classical voice. A lifelong history buff, she has written four novels in the Empress of Rome Saga and two books set in the Italian Renaissance detailing the early years of the infamous Borgia clan. All have been translated into multiple languages. She and her husband now live in San Diego with two black dogs named Caesar and Calpurnia.
Find out more about Kate at her website, and connect with her on Facebook, Instagram, and Twitter.
Book Tour
Check out these other sites for more on The Huntress!
Tuesday, February 26th: Instagram: @shereadswithcats
Wednesday, February 27th: Instagram: @ladyofthelibrary
Thursday, February 28th: Instagram: @brookesbooksandbrews
Friday, March 1st: Peppermint PhD
Monday, March 4th: The Literary Llama
Tuesday, March 5th: Instagram: @libraryinprogress
Wednesday, March 6th: A Bookish Affair
Thursday, March 7th: Ms. Nose in a Book
Monday, March 11th: Thoughts From a Highly Caffeinated Mind
Tuesday, March 12th: Broken Teepee
Wednesday, March 13th: Into the Hall of Books
Thursday, March 14th: A Chick Who Reads
Friday, March 15th: Instagram: @sjwonderlandz
Monday, March 18th: Instagram: @giuliland
Tuesday, March 19th: Instagram: @my_book_journey_
Wednesday, March 20th: Instagram: @crystal_clears_the_shelves
Thursday, March 21st: Instagram: @tbretc
Friday, March 22nd: Literary Quicksand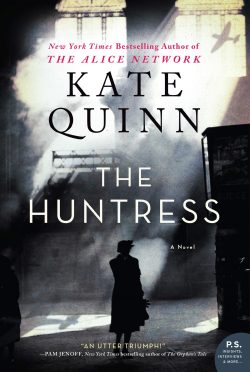 The Huntress
Historical Fiction
William Morrow Paperbacks
February 26, 2019
Paperback
560