Summary
Winner of the Prix Maison de la Presse
An epic love story set against a backdrop of injustice, devastating secrets, and the painful price of independence.
It's 1967 in the Chagos archipelago—a group of atolls in the Indian Ocean—and life is peaceful and easy for hardworking Marie. Her fierce independence and love for her home are quickly apparent to Gabriel, the handsome and sophisticated Mauritian secretary to the archipelago's administrator; it's love at first sight. As these two lovers from neighboring islands welcome a new son, Joséphin, a bright future seems possible. But Gabriel is hiding a terrible secret. The Mauritian government is negotiating independence from Britain, and this deal with the devil will mean evacuating the Chagos, without warning or mercy—a betrayal that will put their love to the test.
Inspired by a shocking travesty of justice, the repercussions of which still reverberate more than fifty years later, bestselling Franco-Mauritian author Caroline Laurent paints a shimmering portrait of island life, a sensual paradise lost, and a gorgeous star-crossed love against all odds.
---
My Review
Caroline Laurent's An Impossible Return: A Novel can be encapsulated in one word: sagren. Sagren, the Kreol word for sorrow lingers over Marie and Gabriel's story like a cloud.
We begin the novel with Marie, we get to know her and what her life is like on Diego Garcia. She's a steadfast woman who takes joy in life's simple pleasures: swimming in the ocean, spending time with her family, enjoying the island that she calls home. We then meet Gabriel, a young Mauritian man whose dream of studying in England is thwarted by his father sending him to Diego Garcia as an administrative assistant. Diego Garcia is a small island, so it's not long before Marie and Gabriel get involved and have a baby, Joséphin.
Laurent has written this story from three different perspectives: Marie, Gabriel, and an adult Joséphin (although this is not immediately revealed). These three points of view give the reader a more rounded view of the forced removal of those living on Diego Garcia. We experience this traumatic event through the eyes of those who lived it and experienced it in different ways but were both powerless to stop it. You feel sorrow throughout each of the characters' narration: Marie's sorrow for the home she lost, Gabriel's sorrow for the things he could not change, and Joséphin's sorrow for his mother.
I truly admire Marie. Chagos born and raised, she's never known anything other than a peaceful life on Diego Garcia. She's a sturdy character, able to withstand any challenge she faces. Marie survives the trauma of being ripped away from her home, forced to go to a new place and start a new life with little help from those who forced her there. But she takes these things in her stride. She doesn't let these traumatising events make her bitter.
Laurent's evocative descriptions of the island, its colours, sounds, smells, enchant the reader. Once Marie and her family have been forced to leave Diego Garcia, these descriptions become almost haunting. A sad reminder of what the Islanders have had taken from them. The author's use of language creates and eases tension throughout the story. She uses shorter, sharper language to create a feeling of stress when the Islanders are told they only have an hour to pack up their entire lives and leave the island. This is balanced out by more adjective-heavy language that's used to describe Diego Garcia's beauty.
For me, translation can be used to educate and inform. And I think that Jeffrey Zuckerman's translation does exactly that. His translation reads comfortably in English but contains the essence of the original. Zuckerman has kept some words and phrases in French, just as Laurent kept them in Kreol in the French text. I like this mirroring, this maintaining the original in the translation. It makes me, as the reader, aware that the text is a translation and it teaches me something. I don't think the foreign words that have made their way into the translation disrupt the text. If anything, they enhance it for me.
An Impossible Return: A Novel is a poignant story. It's mesmerizing and devastating in equal measure, showing us two sides of an experience. It's heart-breaking but hopeful. A thoroughly captivating read.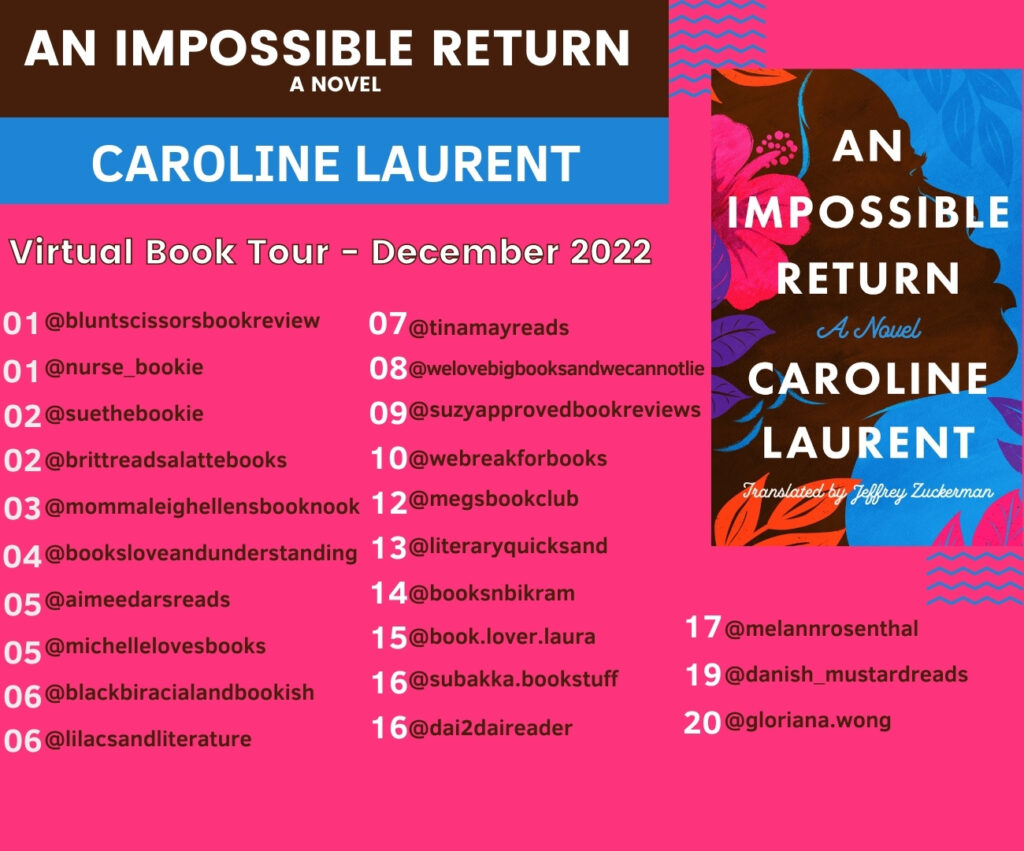 Bookshop.org | Amazon | Goodreads
I'd like to say a big thank you to the author, Caroline Laurent, the translator, Jeffrey Zuckerman, for this novel and Jennifer Richards at Over the River PR for organising this blog tour.
---
About the Author and Translator:
Caroline Laurent is the bestselling Franco-Mauritian author of An Impossible Return, winner of the Prix Maison de la Presse 2020, Prix Louis-Guilloux 2020, and Prix du Salon du Livre du Mans 2020. She also cowrote, with Evelyne Pisier, Et soudain, la liberté (And Suddenly, Freedom), which won the Grand Prix des Lycéennes de ELLE.

Jeffrey Zuckerman has translated many French works into English, including booksby the artists Jean-Michel Basquiat and the
Dardenne brothers; the queer writers Jean Genet and Hervé Guibert; and the Mauritian novelists Ananda Devi, Shenaz Patel, and Carl de Souza. A graduate of Yale University, he has been a finalist for the TA First Translation Prize and the French-American Foundation Translation Prize and has been awarded a PEN/Heim Translation Fund Grant and the French Voices Grand Prize. In 2020 he was named a Chevalier in the Ordre des Arts et des Lettres by the French government.
---