Back in June of 2020, I had the opportunity to review Natalie Jenner's novel The Jane Austen Society–and I absolutely loved it! It was such a treat to be offered the opportunity to review her follow-up book, Bloomsbury Girls ahead of its release this month. Thanks to Natalie, St. Martin's Press, and Austenprose PR for an ARC of the book.
Want to see more 2022 historical fiction? Check out 2022 Historical Fiction: Huge List of New Releases.
The Synopsis
Natalie Jenner, the internationally bestselling author of The Jane Austen Society, returns with a compelling and heartwarming story of post-war London, a century-old bookstore, and three women determined to find their way in a fast-changing world in Bloomsbury Girls.

Bloomsbury Books is an old-fashioned new and rare bookstore that has persisted and resisted change for a hundred years, run by men and guided by the general manager's unbreakable fifty-one rules. But in 1950, the world is changing, especially the world of books and publishing, and at Bloomsbury Books, the girls in the shop have plans:

Vivien Lowry: Single since her aristocratic fiancé was killed in action during World War II, the brilliant and stylish Vivien has a long list of grievances–most of them well justified and the biggest of which is Alec McDonough, the Head of Fiction.

Grace Perkins: Married with two sons, she's been working to support the family following her husband's breakdown in the aftermath of the war. Torn between duty to her family and dreams of her own.

Evie Stone: In the first class of female students from Cambridge permitted to earn a degree, Evie was denied an academic position in favor of her less accomplished male rival. Now she's working at Bloomsbury Books while she plans to remake her own future.

As they interact with various literary figures of the time–Daphne Du Maurier, Ellen Doubleday, Sonia Blair (widow of George Orwell), Samuel Beckett, Peggy Guggenheim, and others–these three women with their complex web of relationships, goals, and dreams are all working to plot out a future that is richer and more rewarding than anything society will allow.
My Review
After reading The Jane Austen Society, I was looking forward to Jenner's next work and was excited to see that she had made a return to historical fiction. In a genre that is saturated with stories about the WWII era and postwar time period, particularly in England, her work stands out to me as offering unique plots and points of view.
In Bloomsbury Girls, I was excited to get to revisit Evie, a servant girl from The Jane Austen Society who was based on Jenner's mother and daughter (see author's note below) as well as meeting the equally interesting Grace and Vivien.
The story takes place mainly in Bloomsbury Books and I loved that Jenner has chosen to continue with the literary theme in her novels. She brings a love of bookstores and authors into her writing, and deftly mixes real-life literary personalities into the story.
Additionally, the theme of the three women working together to stand up to the overbearing, all-male store managers, both illustrated the position of women post-war and continued the warm themes of friendship and support from The Jane Austen Society. Each of the characters has to grapple with the roles women were consigned to in this period: for Vivien, it's coping with loss as well as frustration at her position at the store, for Grace, there is a struggle between dreams, work, and family, and for Evie, who has since become an academic, a loss of a job to a male candidate.
Jenner deftly weaves these social themes into the story in a way that connects readers and characters, and while the book contains plenty of accurate information about the time, it never feels dull or preachy. Instead, I found myself caring deeply about the struggles and triumphs of Vivien, Grace, and Evie, and was delighted to spend more time in one of Jenner's fictional worlds. I'm so glad I got to read Bloomsbury Girls and I eagerly await whatever Natalie Jenner publishes next!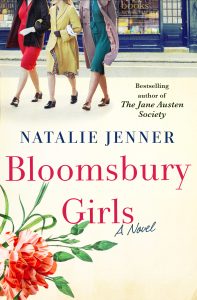 PURCHASE LINKS
PRINT & DIGITAL BOOK
AMAZON | BARNES & NOBLE | BOOK DEPOSITORY | BOOKSHOP | GOODREADS | BOOKBUB
A MESSAGE FROM AUTHOR NATALIE JENNER
Dear readers, I am immensely grateful for the outpouring of affection that so many of you have expressed for my debut novel The Jane Austen Society, and its eight main characters. When I wrote its epilogue (in one go and without ever changing a word), I wanted to give each of Adam, Mimi, Dr. Gray, Adeline, Yardley, Frances, Evie and Andrew the happy Austenesque ending they each deserved. But I could not let go of servant girl Evie Stone, the youngest and only character inspired by real-life (my mother, who had to leave school at age fourteen, and my daughter, who does eighteenth-century research for a university professor and his team). Bloomsbury Girls continues Evie's adventures into a 1950s London bookshop where there is a battle of the sexes raging between the male managers and the female staff, who decide to pull together their smarts, connections, and limited resources to take over the shop and make it their own. There are dozens of new characters in Bloomsbury Girls from several different countries, and audiobook narration was going to require a female voice of the highest training and caliber. When I learned that British stage and screen actress Juliet Stevenson, CBE, had agreed to narrate, I knew that my story could not be in better hands, and I so hope you enjoy reading or listening to it. Warmest regards, Natalie
AUTHOR BIO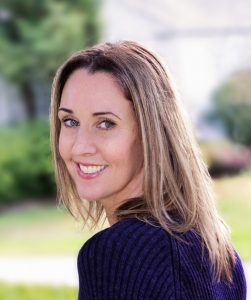 Natalie Jenner is the author of the instant international bestseller The Jane Austen Society and Bloomsbury Girls. A Goodreads Choice Award runner-up for historical fiction and finalist for best debut novel, The Jane Austen Society was a USA Today and #1 national bestseller and has been sold for translation in twenty countries. Born in England and raised in Canada, Natalie has been a corporate lawyer, career coach, and, most recently, an independent bookstore owner in Oakville, Ontario, where she lives with her family and two rescue dogs. Visit her website to learn more.
WEBSITE | TWITTER | FACEBOOK | INSTAGRAM | GOODREADS