Oh, hey fall! Where did you come from? It's time to break out our cozy throws and chunky sweaters and cozy up to a few great books.
Here's what we're reading this month.
Disclosure – We earn a small commission for any items purchased through the Amazon links below at no extra cost to you. Thank you for supporting Literary Quicksand!
---
Ashley
This month, I'm reading Less by Andrew Sean Greer for a pick-me-up, as the novel offers a humorous and optimistic take on the themes of romantic love, sexuality, aging, and traveling. The titular protagonist, Arthur Less, opts to accept all of his literary tour invitations, which leads him on a global journey while he tries to forget about the man he once loved-loves? Less has sound reviews and it's won a Pulitzer Prize, so I was excited to start reading it and it has yet to disappoint! The positive perspective is incredibly comforting.




---
Caleigh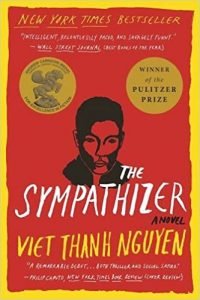 I CANNOT believe September is here already. As usual, the summer has gone way too fast and I'm now scrambling for the fall!
HOWEVER. I get to give myself a huge pat on the back for completing my TBR for August (plus one) and so my list for September will be one book for an independent author (more on this to come in my review… stay tuned!) and at least one selection of my own.
Looking at my shelf, I'd like to read The Sympathizer by Viet Thanh Nguyen this month. A dear friend gave me my copy over a year ago, and I think it's time. With the current political climate (internationally, but especially with the USA presently),The Sympathizer takes us back to the Vietnam War, and the legacy effects from it in today's literature, film, and indeed, conflict. The quick description pens the novel as a story of a captain of the South Vietnamese army and his spy activities for the Viet Cong, against a general and his compatriots. I think I will have a lot to think about after reading it, since capitalism vs. socialism seems to be a huge theme of impending events in our history.


---
Cathy
This month I've read An Island by Karen Jennings, which tells the story of a lonely lighthouse keeper type who lives on a secluded island. The protagonist, Samuel, has lived through the violence that came with the end of colonisation in his country, a dictatorship, and 25 years in prison. His island seems almost like paradise for Samuel, until a body washes up on the shore and the man is still alive. I absolutely loved this book – it took me about five days to read. I was enthralled by Samuel's history (which you get to know really well during the book) and also by how he was going to deal with the situation of this stranger who washed up on his island.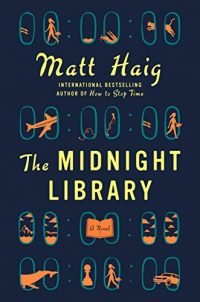 I've also listened to the audiobook of The Midnight Library by Matt Haig. The short intro pulled me in – "Between life and death there is a library, and within that library, the shelves go on forever. Every book provides a chance to try another life you could have lived. To see how things would be if you had made other choices… Would you have done anything different, if you had the chance to undo your regrets?" The story deals with the themes of suicide, depression and other heavier topics, but Matt Haig has dealt with them in a delicate yet firm way. I would really recommend listening to the audiobook as Carey Mulligan reads the audiobook version and her voice is perfect for the story.
I've just started reading Deadline by Geoff Major, which is a crime thriller/mystery story. I've only gotten through a couple of chapters so far, but Geoff Major is doing a great job of introducing the main characters and giving you a lot of in-depth information about their backgrounds, which is something I really like in novels. I think the rest is going to be good, so I'll get back to you next month with what I thought.


---
Jessica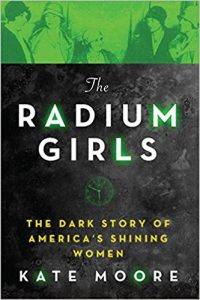 This summer, I got it into my head that I wanted to read 80 books in 2020. My original Goodreads reading challenge goal for the year was 50 books – which I completed earlier this month. Yay! I have adjusted the goal to 60 for now, 80 is not impossible but going to have to keep reading at a pretty fast clip. Luckily this has not been a problem lately!
My re-read of the Twilight saga is coming along well. I am just about finished with Eclipse. I have the Midnight Sun audiobook on hold at my local library and should be getting it soon! The experience of reading these books as an adult has been enlightening to say the least!
Speaking of audiobooks, I am also currently listening to The Radium Girls: The Dark Story of America's Shining Women by Kate Moore. I can't believe that people once thought radium actually had health benefits?? I am looking at the contents of my medicine cabinet very suspiciously now.
I am also leery of my neighbors – I just finished Rosemary's Baby by Ira Levin as part of my incredibly slow progress on the Rory Gilmore Reading Challenge.
My near future TBR hopefuls include – Faces in the Crowd by Valeria Luiselli (current read for one of my bookclubs) and Harry Potter and the Chamber of Secrets by J. K. Rowling (which I have been saying I will get to since May after finishing Philosopher's Stone…).
---
Joli
I started out my month with a real treat: The Exiles by Christina Baker Cline. I've read three of her books now and own another that's still on my TBR pile, and I've loved all of them. The Exiles was a quick, enthralling story about two exiled women who end up on the same island on Australia for very different reasons, but whose stories are entwined. I just loved it – 5 stars.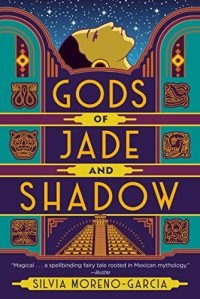 My current read is The Bean Trees by Barbara Kingslover. It's not exactly what I was expecting, but I've started to enjoy it more as I get further along. It's described on the cover as "the Southern novel taken west" and that's definitely a good description. Kingslover's characters are so rich, I'm invested in their lives even though I can't identify with them much at all. I do have to say there's one aspect that's tough to read that includes the physical and sexual abuse of a 2-year-old girl. My own daughter is 2 years old, so it's really not at all a fun subject to think about. Despite that, I am enjoying this one overall.
My next read is The Gods of Jade and Shadow by Silvia Moreno-Garcia. She's the author of Mexican Gothic, which I've seen everywhere lately. I do have to admit, I'm a little intimidated by The Gods because when I first opened it, I found a glossary in the back. Any book that needs a glossary included, I'm not so sure about 😂.


---
Katie
Back-to-school has been kicking my butt this year, which means my reading has fallen off quite a bit. This month, I'm hoping to pick up J. Courtney Sullivan's Saints for All Occasions for a family story that looks enticing, and Zadie Smith's On Beauty as an academic read for a book club I joined. In the meantime, I'm getting into Akwaeke Emezi's Freshwater for another book club and it's unlike anything I've read before!