When then-LQ contrib Kathleen told me she needed to stop writing for LQ so she could focus on the book she was writing, I was sad for us, but thrilled for her. While I expected her to be an awesome writer, I had no idea that her book would go on to be THIS big! As in, published by Penguin Random House big, reviewed by Kirkus big, named on a list of The Best Books of 2020 (So Far) by Real Simple magazine big!
I feel pretty darn lucky to have gotten my hands on an ARC of Minor Dramas & Other Catastrophes and finished reading it just in time for launch day. I attended the book launch party at Magers & Quinn in Minneapolis and heard Kathleen talk all about the book and her process and (eep!) the second book she just turned in.
Anyway, enough of the lead-in…here's the review!
The Summary
Perfect for fans of Where'd You Go, Bernadette and Small Admissions, a wry and cleverly observed debut novel about the privileged bubble that is Liston Heights High–the micro-managing parents, the overworked teachers, and the students caught in the middle–and the fallout for each of them when the bubble finally bursts.
Isobel Johnson knows helicopter parents like Julia Abbott–a stage mom whose world revolves around interfering in her children's lives–come with the territory. Julia resents teachers like Isobel, who effortlessly bond with students, including Julia's own teenagers, who have started pulling further away from her.
Isobel has spent her teaching career in Liston Heights side-stepping the community's high-powered families. But when she receives a threatening voicemail accusing her of Anti-Americanism and a "blatant liberal agenda," she realizes she's squarely in the fray. Rather than cowering, Isobel doubles down on her social-justice ideals. Meanwhile, Julia, obsessed with the casting of the high school's winter musical, inadvertently shoves the female student lead after sneaking onto the school campus. The damning video footage goes viral and has far-reaching consequences for Julia and her entire family.
With nothing to unite them beyond the sting of humiliation from public meltdowns, Isobel and Julia will find common ground where they least expect it, confronting a secret Facebook gossip site that's stirring up more trouble for this tumultuous, fractured school community.
The Review
This book very aptly lives up to its title. The dramas and catastrophes will have you 😂 and 😲 and 🤦‍♀️ and 🤣.
The narrative bounces between the students, teachers, and parents. That makes for a lot of points of view, which does feel a little confusing in the beginning. As the book goes on, though, it becomes clear that the story just wouldn't come together without all of those viewpoints, so I didn't mind the jumping around.
My mouth dropped open and I said "oh nooooooo no no!" so many times while reading this book. The helicopter parent antics are over the top, the teacher drama gets nuts, and the students just get caught up in the middle of all of it. I laughed, I gasped, and I loved it.
In the moment where everything comes to a head and the teacher and parent worlds collide (literally), they start working together over a shared hatred of a Facebook group. Social media plays a huge role in this book in both the adult and child circles, which I thought was really appropriate considering how widespread it is these days. It's used for both good and evil in this book, which is….well, how it goes in the real world, too.
I thought Minor Dramas & Other Catastrophes was super fun to read and just the right amount of ridiculous. I tried to judge it as if I didn't know the author, but it was hard to do that because there were some really Minnesotan things going on 😂. I gave this one five stars and I highly recommend picking it up.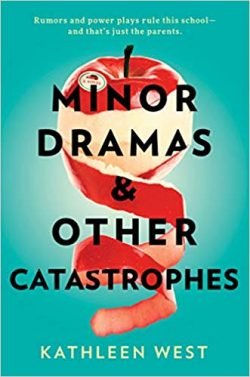 Minor Dramas & Other Catastrophes
Penguin Random House
February 4, 2020
Hardcover
384 pages


Pin This Post