In her newest work of historical fiction, Talia Carner tells a story based on little-known true events and certainly one that I'd never heard about before diving into this book. The novel revolves around Batya, a young Jewish woman fleeing Russia with her family. 
In what seems like a gift from above, the family meets a wealthy man who promises to marry Batya and take her to America for a better life. In actuality, the man sends her to Buenos Aires with an associate, assuring her he'll meet her soon after attending to some business in Europe. It's not the America she expected — in more ways than one. 
In Buenos Aires, Batya joins the thousands of women — many of them Eastern European Jews — who are forced into prostitution, which is legal and part of the city's robust culture. Despite her circumstances, Batya remains hopeful. She forms deep bonds with the women she lives with, who all refer to each other as "sisters" and saves to bring her family over from Russia. 
It's an unbelievable story that also happens to be based on real life. In that way, it was definitely an eye-opening read. I rooted for Batya and her sisters the whole way through and found myself unable to put the book down until I found out what happened in the end. I think this would be a remarkable book club read. 
Thank you to TLC Book Tours and William Morrow for the opportunity to read and review!
About The Third Daughter
• Paperback: 432 pages
• Publisher: William Morrow Paperbacks (September 3, 2019)
"In The Third Daughter, Talia Carner ably illuminates a little-known piece of history: the sex trafficking of young women from Russia to South America in the late 19th century. Thoroughly researched and vividly rendered, this is an important and unforgettable story of exploitation and empowerment that will leave you both shaken and inspired." —Pam Jenoff, New York Times bestselling author of The Lost Girls of Paris
The turn of the 20th century finds fourteen-year-old Batya in the Russian countryside, fleeing with her family endless pogroms. Desperate, her father leaps at the opportunity to marry Batya to a worldly, wealthy stranger who can guarantee his daughter an easy life and passage to America.
Feeling like a princess in a fairytale, Batya leaves her old life behind as she is whisked away to a new world. But soon she discovers that she's entered a waking nightmare. Her new "husband" does indeed bring her to America: Buenos Aires, a vibrant, growing city in which prostitution is not only legal but deeply embedded in the culture. And now Batya is one of thousands of women tricked and sold into a brothel.
As the years pass, Batya forms deep bonds with her "sisters" in the house as well as some men who are both kind and cruel. Through it all, she holds onto one dream: to bring her family to America, where they will be safe from the anti-Semitism that plagues Russia. Just as Batya is becoming a known tango dancer,  she gets an unexpected but dangerous opportunity—to help bring down the criminal network that has enslaved so many young women and has been instrumental in developing Buenos Aires into   a major metropolis.
A powerful story of finding courage in the face of danger, and hope in the face of despair, The Third Daughter brings to life a dark period of Jewish history and gives a voice to victims whose truth deserves to finally be told.
Purchase Links
About Talia Carner
Talia Carner is the former publisher of Savvy Woman magazine and a lecturer at international women's economic forums. This is her fifth novel.
Find out more about Talia at her website, and connect with her on Facebook and Twitter.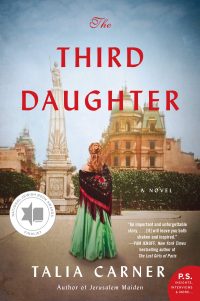 The Third Daughter
William Morrow Paperbacks
September 3, 2019
Paperback
413