If you're looking for a well-written dark and twisty thriller, The Last Thing I Told You is a must read.
I haven't read any of Arsenault's other books, but I have always been a fan of psycho-thrillers. This story revolves around the murder of a psychologist and written from two points of view: Henry (detective) and Nadine (former patient).
Each chapter we learn a little more about Nadine's inner thoughts as she continues talking to her former (dead) therapist and we get a little closer to finding out who did it, from Henry's perspective. It also bounces between the past and the present, so you have to be aware of where in time you are throughout the book.
What makes a good thriller a good thriller is the writing. If an author can keep me guessing until the end, they've got a new fan!
And, I'm happy to say the writing was on point. Arsenault's writing style was a little slower paced than other thrillers, but I appreciated the character development, the tension and the twists that kept me on my toes. I'm looking forward to reading more of her books.
Purchase Links
HarperCollins | Amazon | Barnes & Noble

---
About The Last Thing I Told You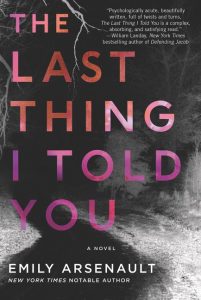 From the acclaimed author of The Evening Spider and The Broken Teaglass comes this psychological thriller about the murder of a psychologist in a quiet New England town and his former patient whose unreliable thread will keep readers guessing until the shocking end.
I hear myself whispering. Not again. Not again.
Why did I ever come back here? Surely because of you. Because I thought of something I'd always meant to tell you. Because you were the only one I ever really wanted to tell it to…
Therapist Dr. Mark Fabian is dead—bludgeoned in his office.
But that doesn't stop former patient Nadine Raines from talking to him—in her head. Why did she come back to her hometown after so many years away? Everyone here thinks she's crazy. And she has to admit—they might have good reason to think so. She committed a shockingly violent act when she was sixteen and has never really been able to explain that dark impulse—even to Fabian. Now that Fabian's dead, why is she still trying?
Meanwhile, as Detective Henry Peacher investigates Fabian's death, he discovers that shortly before he died, Fabian pulled the files of two former patients. One was of Nadine Raines, one of Henry's former high school classmates. Henry still remembers the disturbing attack on a teacher that marked Nadine as a deeply troubled teen.
More shockingly, the other file was of Johnny Streeter, who is now serving a life sentence for a mass shooting five years ago. The shooting devastated the town and everyone—including Henry, who is uncomfortable with the "hero" status the tragedy afforded him—is ready to move on. But the appearance of his file brings up new questions. Maybe there is a decades-old connection between Nadine and Streeter. And maybe that somehow explains what Nadine is doing in Fabian's office nearly twenty years after being his patient. Or how Fabian ended up dead two days after her return. Or why Nadine has fled town once again.
But as Nadine and Henry head toward a confrontation, both will discover that the secrets of people's hearts are rarely simple, and—even in the hidden depths of a psychologist's files—rarely as they appear.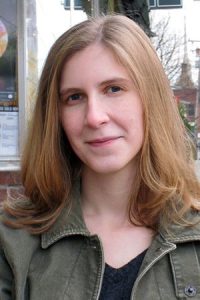 About Emily Arsenault
Emily Arsenault is also the author of The Broken Teaglass, In Search of the Rose Notes, Miss Me When I'm Gone, and What Strange Creatures. She lives in Shelburne Falls, Massachusetts, with her husband and daughter.
Find out more about Emily at her website and connect with her on Facebook.
I received an advanced copy of this book from TLC Book Tours in exchange for an honest review. 
Other stops on this tour:
Tuesday, July 24th: Instagram: @shereadswithcats
Friday, July 27th: As I turn the pages
Monday, July 30th: Wining Wife
Tuesday, July 31st: Jathan & Heather
Wednesday, August 1st: Jessicamap Reviews
Thursday, August 2nd: From the TBR Pile
Monday, August 6th: Instagram: @onceupon_a_bookdream
Tuesday, August 7th: Instagram: @Novelmombooks
Wednesday, August 8th: Thoughts From a Highly Caffeinated Mind
Thursday, August 9th: Ms. Nose in a Book
Monday, August 13th: Instagram: @alittlebookishlife
Tuesday, August 14th: Instagram: @biblio_files
Wednesday, August 15th: Instagram: @jenabrownwrites
Thursday, August 16th: Instagram: @givemeallthebooks
Friday, August 17th: Instagram: @strandedinbooks