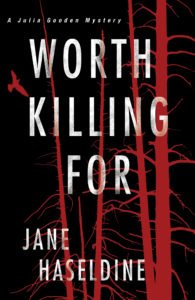 First of all, I had no clue Worth Killing For was the 3rd in a series.
With that said, I didn't feel like I missed a beat about the main character, Julia Gooden.
She's a crime reporter for a Detroit newspaper, dating a detective and has two kids at home to protect.
The story really kicks off when Julia spots a familiar face. After 30 years of her dad disappeared, he returns to Detroit. He wasn't always in the line of ethical work, spent some time in prison and most people believed Duke to be long gone.
While Julia is investigating the death of the city councilman's nephew, she starts connecting the dots to similar murders that go back decades. She may even find out what happened to her brother, Ben, who disappeared shortly after her dad walked out.
My Review:
It took me a few tries to really get into this book, but about 70 pages in, I was hooked. Maybe it was because I was missing some information and connection to the characters from the first two books in this series.
However, the storyline, action and mystery in Worth Killing For did not disappoint.
My favorite part? I really loved the Julia Gooden character! She's feisty, smart and not afraid to give up.
If you're a fan of a good female heroine and a little mystery, add this book to your TBR pile!
Follow us on Instagram and enter our giveaway for a copy of Worth Killing For!
About Jane Haseldine:
Jane Haseldine writes the Julia Gooden Mystery Series for Kensington Publishing. Jane is a journalist and former crime reporter who also previously worked in politics as a deputy director of communications for a governor.  Jane graduated from Syracuse University's S.I. Newhouse School of Public Communications with a degree in journalism.
She currently resides in Southern California with her husband and two sons, but previously lived in Boston, San Francisco, New York, Delaware, Michigan, Pennsylvania, and Louisiana. You can find her at janehaseldine.com, Twitter, Goodreads, Facebook and on Instagram @janehaseldineauthor.
Other reviews of Worth Killing For:
Tuesday, March 27th: Literary Quicksand
Thursday, March 29th: she treads softly
Friday, March 30th: 5 Minutes For Books
Friday, March 30th: Novel Gossip
Tuesday, April 3rd: Tina Says…
Wednesday, April 4th: ACaffeinatedBibliophile
Thursday, April 5th: hollyslittlebookreviews
Monday, April 9th: Write – Read – Life
Tuesday, April 10th: Jessicamap Reviews
Wednesday, April 11th: No More Grumpy Bookseller
Wednesday, April 18th: Readaholic Zone