Story: I'll Be Your Blue Sky is a story about Clare and Edith. Connected through a single conversation, Edith gives Clare the confidence to leave her stifling fiancé on their wedding day. Shortly after, Clare learns of Edith's death when she is informed that Edith left her an oceanside home in Delaware. Inheriting a pile of distinctly marked keys, Clare finds she may be unlocking more than a few cabinets when she finds two ledgers that reveal the secrets of the Blue Sky House.
It wasn't the presence of dead, beautiful things that broke her; nor was it those glass eyes, pair after lightless pair.
Why: Split narratives annoyed me for a long time. In the past few years though, I've been reading them more frequently and actually chose to read this title in part because it was a split narrative. Inspired by The Lost Castle and The Wicked City, I've also been reading more generational novels the emphasize how our lives have a wider impact than our day-to -ay existence. The hint of mystery and dark family secrets on top of the beautiful background of coastal Delaware didn't hurt either!
Her photos surprised her. She meant only to capture the small specifics that intrigued her, but the resulting prints riddled and tricked: horseshoe crab tail transformed to a pointed skyscraper, salt marsh hay to a child's tousled hair.
Opinion: This was my first time reading Marisa de los Santos and I thoroughly enjoyed her writing style. There were a few moments where I felt the narrative was a little slow, but the writing has a poetic quality and creates beautiful imagery that kept me engaged. I think it also helped that the characters' flaws were apparent and relatable. Sometimes I think authors create such bold characters that it's hard to imagine them as real humans or similar to people we know outside of the pages of a book.
It was early morning, just after sunrise the jeweled hour, the sun a liquid-edged apricot, its light pattering like fingertips over the water, the sky a breath of blue.
Recommendation: While there are elements of romance and mystery, I would recommend this title for those that enjoy literary fiction as opposed to more action or plot driven novels. The ornate language doesn't lend itself well to being a quick read, but I do think I would have liked to take this title with me on a spring vacation.
Moonlight spilled like mercury through the black branches of the maple tree outside the window, figuring crazy shadows on the walls and on the strawberry print tablecloth, shadows that writhed and rippled as the wind blew.
Journaling Prompts: (If you haven't read any of my other reviews, I enjoy putting together a few questions about the book for those that have already read, or choose to read the book after viewing this post!)
Did you prefer reading Clare's chapters or Edith's?
Compare and contrast the two women.
Discuss the importance of natural themes and symbols in this book (flowers, birds, water, etc.).
What does the idea of being someone's "blue sky" mean to you?
Family means more than blood. Who is family in this novel? Who considers it important? Who doesn't?
Special thanks to TLC Book Tours for the book in exchange for my honest review!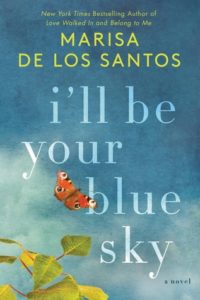 I'll Be Your Blue Sky
Love Walked In #3
William Morrow
March 6, 2018