Today is LQ's stop on the I Chose You blog tour by Wow! Women on Writing. If you like dogs (and/or stories about dogs), you're going to love this one.
Summary
For every pet parent who knows there's no such thing as 'just a dog,' this collection of uplifting glimpses into the lives of ordinary-turned-extraordinary dogs and the people who love them is a tail-wagging good read.
Thanks to the rescue dog who saved her life after a traumatic brain injury, Carmen Leal went from saying she'd never have a dog to becoming an advocate for man's best friend. Carmen volunteered at the local rescue shelter by writing bios and social media posts, applying for grants, and helping to save and re-home over 6,500 dogs from a high-kill shelter. This endearing anthology includes stories that celebrate the bond between canines and humans including:
Buddy the beagle who went from living chained under a porch to becoming the town's only therapy dog
Heavenly Joy, the frightened Chihuahua who changed the life of a grumpy old man
Bogey, an abandoned mixed-breed trained by prison inmates and adopted by his forever family
I Chose You is a collection of memorable, beautifully written stories of dogs rescued by people and, ultimately, people rescued by dogs. If you like four-legged friends and happy endings, you'll love Carmen Leal's touching collection of heart-warming stories.
Fetch a copy of I Chose You, the feel-good book that resonates with anyone who has ever loved a dog.
My Review
This book is really what you'd imagine: a heartwarming book of stories about rescue dogs, their owners, and how their lives intertwine.
The book is broken up into loose chapters of themed stories. With titles like Smile, Somebody to Love, Tears in Heaven, and Where You Lead, the chapters are just as touching as you'd imagine.
It's not all fun and games and lovey-dovey stuff, though: there are stories about the hard stuff, too. There are stories about loving a dog but having an incredibly hard time getting said dog to work in a home, about losing beloved companions, and more.
Honestly, it's hard to review this lovely conglomeration of stories because it's just straightforwardly lovely. Pet parents, this is a good one 💜.
Bookshop.org | Amazon | Goodreads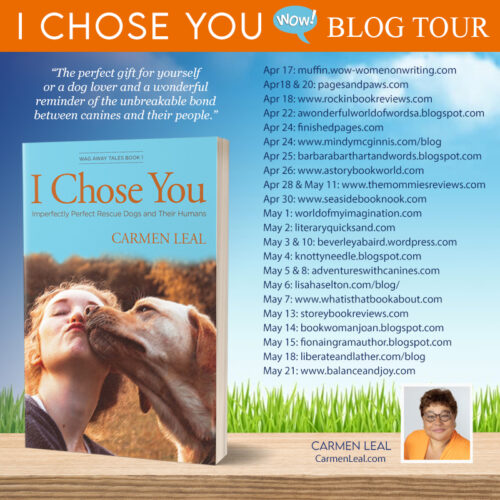 About the Author
Carmen Leal is a storyteller and the author of multiple books, articles, devotionals, and human-interest stories. Carmen relocated from Hawaii to Oshkosh, yes, there is a story behind the move, and has become an awesome dog mom. Carmen and her husband have become reluctant gardeners and know a crazy amount about Wisconsin weeds. She is the mother of two sons, two incredible grandsons, and Coconut, the best imperfectly perfect rescue dog in the world. Learn more about Carmen and Coconut by visiting carmenleal.com.
Find the author online:
http://carmenleal.com/blog
https://wagawaypublishing.com
https://www.facebook.com/Rescuemoredogs
https://www.facebook.com/carmen.leal.794
Praise About the Book
"I'm so thrilled to discover this beautiful collection of stories featuring these imperfectly perfect rescue pups. I Chose You has won my heart!" — Janice Thompson, author of Paws for Reflection: 50 Devotions for Dog Moms
"Great read! Nothing in life is perfect except unconditional love. I Chose You captures that choice!" — Adrian Palmer Board of Directors Medical Advisor Australian Shepherds Furever Rescue
"The best prescription I can write for trauma survivors, veterans with PTSD, and others with mental health issues, is the healing power of dogs. I Chose You is the perfect gift for yourself or a dog lover and a wonderful reminder of the unbreakable bond between canines and their people." —Angela Miller, Licensed Professional Therapist