Welcome to the book tour for A Dress of Violet Taffeta by Tessa Arlen! This was a very interesting 2022 historical fiction read that I think you'll enjoy reading about.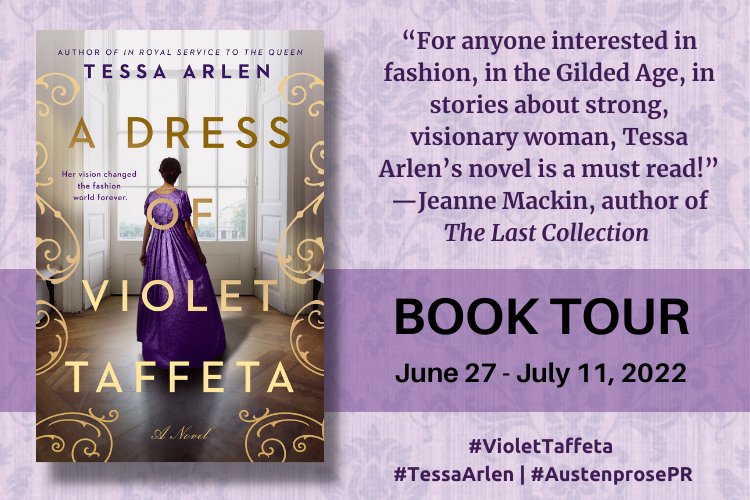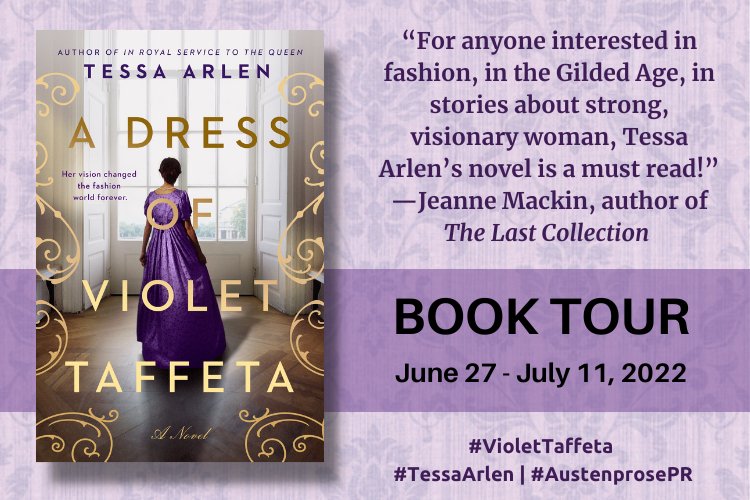 The Summary
Lucy Duff Gordon knows she is talented. She sees color, light, fabric, and texture in ways few other people do. But is the world ready for her? A world dominated by men who would try to control her and use her art for their own gain?
After being deserted by her wealthy husband, Lucy is desperate to survive. She turns to her one true talent to make a living. As a little girl, the dresses she made for her dolls were the envy of her group of playmates. Now, she uses her courageous innovations in Belle Époque fashion to support her own little girl. Lucile knows it is an uphill battle, and a single woman is not supposed to succeed on her own, but she refuses to give up. She will claim her place in the fashion world; failure simply is not an option.
Then, on a frigid night in 1912, Lucy's life changes once more, when she becomes one of 706 people to survive the sinking of the Titanic. She could never have imagined the effects the disaster would have on her career, her marriage to her second husband, and her legacy. But no matter what life throws at her, Lucile will live on as a trailblazing and fearless fashion icon, never letting go of what she worked so hard to earn. This is her story.
My Review
Do you ever decide to go into a book mostly blind? I think I read the blurbs about A Dress of Violet Taffeta, but never the full synopsis. So, I went into it not really knowing what might happen. So that was an adventure!
Much of this book is more character than plot based, which at times was a little slow, but I enjoyed those bits for the most part. I think if you're into fashion, all of the rich detail about the dresses and fabrics and designs would really be fun for you.
My favorite part of A Dress of Violet Taffeta was Lucy's love life. Cosmo seems so sweet and I was really rooting for them, so their love made me so happy. I did love that Lucy was so independent in a society where women just weren't, but I was still happy when she found love and happiness with Cosmo.
This story didn't really follow a traditional story arc. It was mostly just Lucy floating along, building her fashion brand and multiple clothing stores with some love on the side. That is, until she and Cosmo get on the dang Titanic. Remember how I said I didn't read the synopsis? Yep, so I was totally surprised by the Titanic. Obviously you can predict much of what's going to happen when the story gets to the Titanic, but it definitely injected some action into the story arc.
Overall, this book was slow-moving at times and jumped over a lot of years, but if you're into character-driven historical fiction and you like fashion, I can see you just loving this book. For me, it was pretty good! I did love the author's notes at the end with the pictures of Lucy and her gowns – they really brought the story alive for me. I'm giving it a solid 3.5 stars, but like I said, if you love character-driven historical fiction and fashion, this is straight up your alley! The writing was great and learning about Lucy was fascinating at times.