Synopsis
WINNER OF THE MAO DUN LITERATURE PRIZE
Liu Xinwu's work, which includes novels, short stories, and children's literature, focuses on the common people of Beijing who live on the margins of society. He is one of the earliest proponents of the post-Maoist wave of Chinese literature, and is regarded as the creator of China's "scar literature" genre. When Xinwu's THE WEDDING PARTY was published in China in 1985, it was an immediately resounding success and won China's biggest fiction award, the Mao Dun Prize. Jeremy Tiang, a renowned author who has translated into English the influential works of Jackie Chan, Geling Yan (The Secret Talker), Chan Ho-Kei (Second Sister), and Tianxia Bachang (The City of Sand), now brings Liu Xinwu's Chinese classic to vivid life for English readers. Set at a pivotal point after the turmoil of the Chinese Cultural Revolution, THE WEDDING PARTY weaves together a rich tapestry of characters, intertwined lives, and stories within stories, in this day-in-the-life tale of a Beijing wedding.
On a December morning in 1982, the courtyard of a Beijing siheyuan―a lively quadrangle of
homes―begins to stir. Auntie Xue's son Jiyue is getting married today, and she is determined
to make the day a triumph. Despite Jiyue's woeful ignorance in matters of the heart―and the
body. Despite a chef in training tasked with the onerous responsibility of preparing the banquet.

With a cross-generational multitude of guests, from anxious family members to a fretful bridal
party―not to mention exasperating friends, interfering neighbors, and wedding crashers―what will the day ahead bring?

THE WEDDING PARTY is an insightful, rollicking portrait of life in this singular city, all packed
into a Beijing courtyard on a single day that manages to be both perfectly normal and utterly
extraordinary at the same time.
---
Review
Sonder [n.] – the realisation that every passerby has a life as vivid and as complex as your own
Liu Xinwu has captured the intricacies of everyday life in The Wedding Party and we meet an interesting group of characters during the book. The story starts with the preparation for a wedding in Beijing and as we meet more characters, we get to know more about their personal stories and the recent history of China.
I found this book fascinating because of the complexity of each of the characters' lives – no two people experience the same day twice and The Wedding Party demonstrates this extremely well. We get to know a huge range of characters who are all connected via a singular courtyard in Beijing.
I liked how the book has been laid out; each character has a chapter devoted to them and there's a two-line summary of the chapter at the beginning. So, you have a vague idea of what to expect when you encounter each character for the first time. The chapters can be long, but they aren't necessarily directly dependent on one another. I read them as a series of short stories that have an overarching theme: the wedding.
I think the translator, Jeremy Tiang, has brought each of the characters to life in English but managed to maintain their individual personalities very well. I also like that the translator has kept a lot of Chinese words in the translation. This can be a tricky thing to do as it might disrupt the reader's experience, however, in the case of The Wedding Party it adds to the atmosphere and authenticity of the story.
Overall, I would recommend this book to those who want to get to know more about daily life in China after the Cultural Revolution. The author has skilfully balanced fact and fiction to create an interesting read.
Purchase Links
Amazon, Bookshop, Barnes & Noble
Thank you to the author and translator for a copy of the book and to Jennifer Richards at Over The River Publications for organising the tour!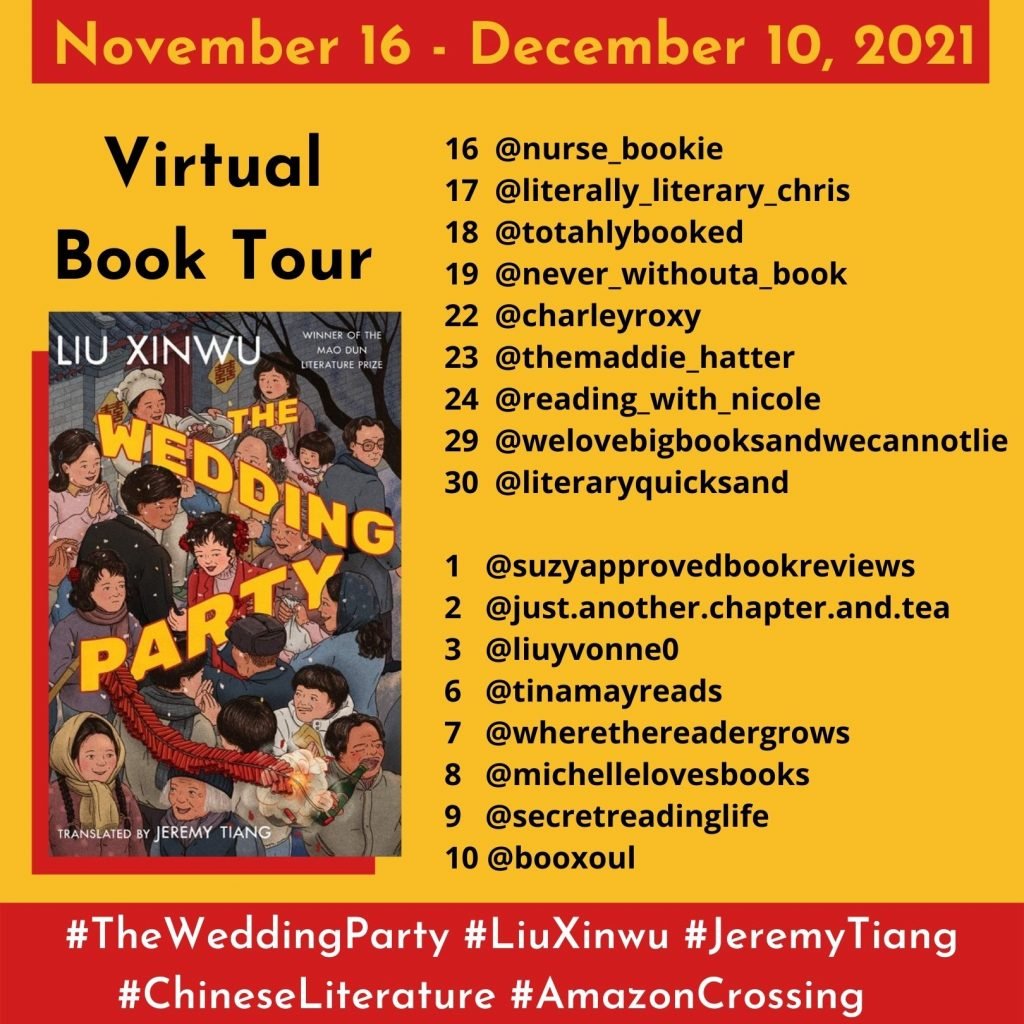 About the author and translator
Liu Xinwu was born on June 4, 1942, in Chengdu, Sichuan Province, China, and has lived in Beijing since 1950. His short story "The Class Teacher" appeared in People's Literature magazine in November 1977 and is regarded as the first instance of China's "scar literature" genre. Liu's other stories include "I Love Every Green Leaf," "Black Walls," "White Teeth," and "The Wish." His novellas include Overpass and Little Dunzi. He is also the author of the novel The Wedding Party, winner of the
Mao Dun Literature Prize. He has also written many essays and has been an architectural critic. His research into the classical Chinese novels The Golden Lotus and Dream of the Red Chamber has been very influential. From 1987 to 1989, he was the editor in chief of People's Literature.
Jeremy Tiang was born and raised in Singapore. He studied English Literature at University College Oxford, and then trained as an actor at Drama Center London. After acting professionally on stage and in short films, Tiang transitioned from acting to playwriting, writing fiction, and translating literature. His short story Trondheim, from his collection It Never Rains on National Day, won Singapore's 2009 Golden Point Award; and his novel State of Emergency won the Singapore Literature Prize in 2018. Tiang has translated novels by Yan Ge, Zhang Yueran, Yeng Pway Ngon, Chan Ho-Kei, Li Er, Lo Yi-Chin, and Geling Yan. He lives in Flushing, Queens. For more information, visit www.jeremytiang.com.