Hey hey Tuesday! This is my very first Tuesday taking part in Top Ten Tuesday, a weekly blog prompt that a lot of my fellow bloggers take on. It's hosted by That Artsy Reader Girl.
Today's prompt is books written before I was born. Oh gosh, before 1987? Let's see if I can do this 😂. It can be books I've read, or books I want to read. Here goes!
Disclosure – We earn a small commission for any items purchased through the Amazon or Bookshop.org links below at no extra cost to you. These earnings are put toward our website hosting costs. Thank you for supporting Literary Quicksand!
Little House in the Big Woods by Laura Ingalls Wilder
I was so in love with this series as a little girl. Plus, I lived close enough to the Laura Ingalls Wilder Museum in Walnut Grove, MN to road trip there in grade school with my grade school bestie, LQ contrib Becky. Such fun memories!
Little House in the Big Woods takes place in 1871 and introduces us to four-year-old Laura, who lives in a log cabin on the edge of the Big Woods of Wisconsin. She shares the cabin with her Pa, her Ma, her sisters Mary and Carrie, and their lovable dog, Jack.
Pioneer life isn't easy for the Ingalls family, since they must grow or catch all their own food as they get ready for the cold winter. But they make the best of every tough situation. They celebrate Christmas with homemade toys and treats, do their spring planting, bring in the harvest in the fall, and make their first trip into town. And every night, safe and warm in their little house, the sound of Pa's fiddle lulls Laura and her sisters into sleep.
---
The Lord of the Rings Trilogy by J.R.R. Tolkien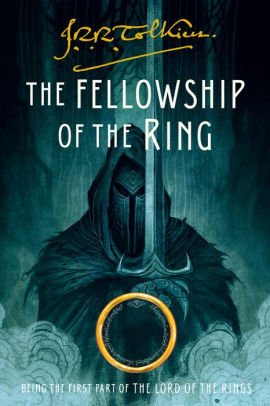 I had to read The Fellowship of the Ring and then watch the movie when I was, I think, a freshman maybe? Or 8th grade? I was so against it at first…you know, the right age to eye roll at this kind of assignment. But then I read it and watched it and OMG I loved it!
One Ring to rule them all, One Ring to find them, One Ring to bring them all and in the darkeness bind them
In ancient times the Rings of Power were crafted by the Elven-smiths, and Sauron, The Dark Lord, forged the One Ring, filling it with his own power so that he could rule all others. But the One Ring was taken from him, and though he sought it throughout Middle-earth, it remained lost to him. After many ages it fell into the hands of Bilbo Baggins, as told in The Hobbit.
In a sleepy village in the Shire, young Frodo Baggins finds himself faced with an immense task, as his elderly cousin Bilbo entrusts the Ring to his care. Frodo must leave his home and make a perilous journey across Middle-earth to the Cracks of Doom, there to destroy the Ring and foil the Dark Lord in his evil purpose.
---
The House of the Spirits by Isabel Allende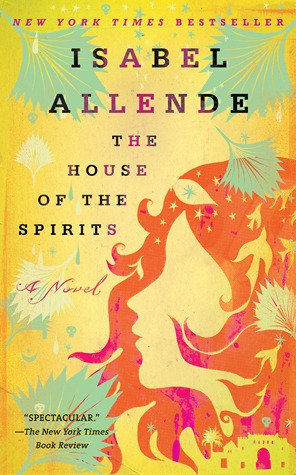 I have not read this book, but Isabel Allende is an author I have always wanted to read but just haven't gotten to. It would be awesome to read her first book, The House of the Spirits, which was published in 1982.
In one of the most important and beloved Latin American works of the twentieth century, Isabel Allende weaves a luminous tapestry of three generations of the Trueba family, revealing both triumphs and tragedies. Here is patriarch Esteban, whose wild desires and political machinations are tempered only by his love for his ethereal wife, Clara, a woman touched by an otherworldly hand. Their daughter, Blanca, whose forbidden love for a man Esteban has deemed unworthy infuriates her father, yet will produce his greatest joy: his granddaughter Alba, a beautiful, ambitious girl who will lead the family and their country into a revolutionary future.
The House of the Spirits is an enthralling saga that spans decades and lives, twining the personal and the political into an epic novel of love, magic, and fate.
---
A Pale View of Hills by Kazuo Ishiguro
This is in the same vein as The House of the Spirits — also published in 1982, A Pale View of Hills was Ishiguro's first novel as well. And also like Allende, this is another author who has been on my list for forever and I still haven't gotten to him 🙈.
In his highly acclaimed debut, A Pale View of Hills, Kazuo Ishiguro tells the story of Etsuko, a Japanese woman now living alone in England, dwelling on the recent suicide of her daughter. Retreating into the past, she finds herself reliving one particular hot summer in Nagasaki, when she and her friends struggled to rebuild their lives after the war. But then as she recalls her strange friendship with Sachiko – a wealthy woman reduced to vagrancy – the memories take on a disturbing cast.
---
Ramona Quimby, Age 8 by Beverly Cleary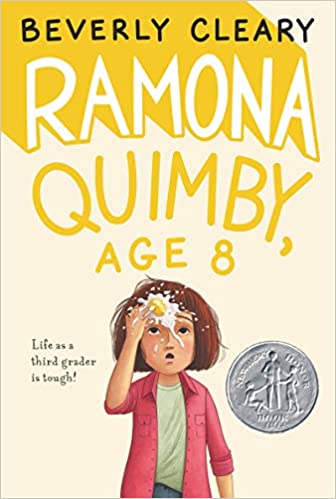 Oh, how I loved Ramona's antics when I was little. While I enjoyed all the books (I think my mom read them to me first, then I read them again), this one sticks out in my mind as a particular favorite.
Mr. Quimby's going to college, Mrs. Quimby's going to work. Now that Ramona is eight, she can go to a new school with a new teacher and ride the bus all by herself. But after school she has to stay with Grandmother Kemp and be nice to that bratty little Willa Jean until Beezus, who's temperamental enough to ruin anyone's day, comes to take her home. Life isn't as easy for Ramona as it used to be. All the Quimbys have to adjust, and Ramona gets her chance to prove that she's "big enough for her family to depend on."
---
Tuck Everlasting by Natalie Babbitt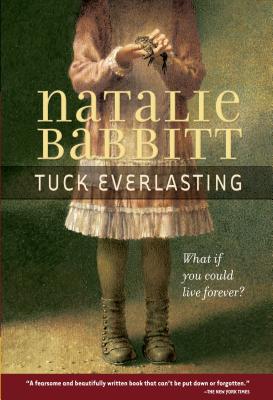 I'm putting this book here not because I've read it, but because, at one point in my adolescence, I was pretty much obsessed with the movie. As in, the one with Alexis Bledel that came out in 2002, when I was 15. Ah, young, doomed love.
Doomed to – or blessed with – eternal life after drinking from a magic spring, the Tuck family wanders about trying to live as inconspicuously and comfortably as they can. When ten-year-old Winnie Foster stumbles on their secret, the Tucks take her home and explain why living forever at one age is less a blessing that it might seem. Complications arise when Winnie is followed by a stranger who wants to market the spring water for a fortune.
---
The Crying of Lot 49 by Thomas Pynchon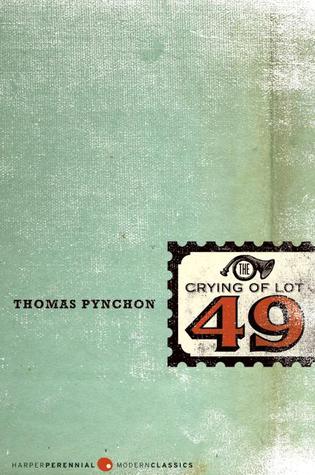 I read this book in an English class my Sophomore year of college, and I just fell in love with it for some strange reason. It was so rich with fun things to study, as English majors tend to geek out about, I think. It was so quirky and so fun.
Suffused with rich satire, chaotic brilliance, verbal turbulence and wild humor, The Crying of Lot 49 opens as Oedipa Maas discovers that she has been made executrix of a former lover's estate. The performance of her duties sets her on a strange trail of detection, in which bizarre characters crowd in to help or confuse her. But gradually, death, drugs, madness, and marriage combine to leave Oedipa in isolation on the threshold of revelation, awaiting the Crying of Lot 49.
---
Where the Sidewalk Ends by Shel Silverstein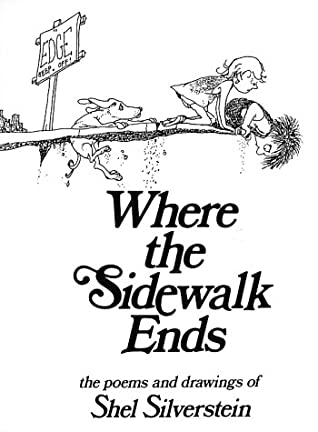 I think just about everyone in my generation can see this book and have fond memories. I don't think we owned a copy, but I remember reading it (and having it read to me) at school a lot.
Where the sidewalk ends, Shel Silverstein's world begins. There you'll meet a boy who turns into a TV set and a girl who eats a whale. The Unicorn and the Bloath live there, and so does Sarah Cynthia Sylvia Stout who will not take the garbage out. It is a place where you wash your shadow and plant diamond gardens, a place where shoes fly, sisters are auctioned off, and crocodiles go to the dentist.
Shel Silverstein's masterful collection of poems and drawings is one of Parent & Child magazine's 100 Greatest Books for Kids. School Library Journal said, "Silverstein has an excellent sense of rhythm and rhyme and a good ear for alliteration and assonance that make these poems a pleasure to read aloud."
---
A Tree Grows in Brooklyn by Betty Smith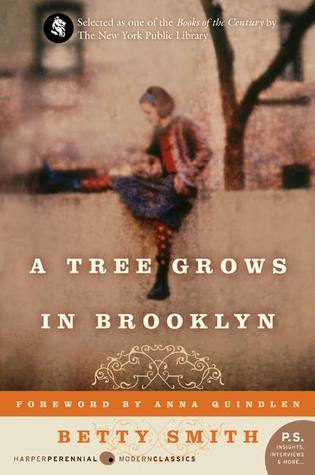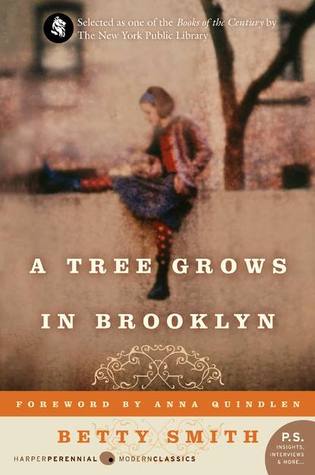 This is one of my all-time favorite books! I love a character driven novel if it's done well, and boy, is this one done well. I just loved the whole dang thing. Here's my full review.
The beloved American classic about a young girl's coming-of-age at the turn of the century, Betty Smith's A Tree Grows in Brooklyn is a poignant and moving tale filled with compassion and cruelty, laughter and heartache, crowded with life and people and incident. The story of young, sensitive, and idealistic Francie Nolan and her bittersweet formative years in the slums of Williamsburg has enchanted and inspired millions of readers for more than sixty years. By turns overwhelming, sublime, heartbreaking, and uplifting, the daily experiences of the unforgettable Nolans are raw with honesty and tenderly threaded with family connectedness — in a work of literary art that brilliantly captures a unique time and place as well as incredibly rich moments of universal experience.
---
Rebecca by Daphne du Maurier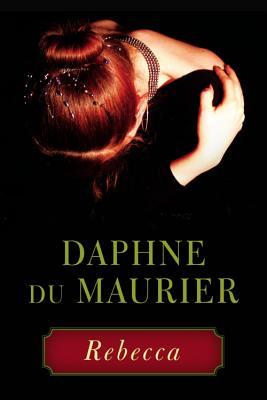 This one had already been on my TBR list for a long time when I found out Netflix was releasing an adaptation, annnd I still haven't gotten to it. Nor have I watched the movie. Just behind!
Last night I dreamt I went to Manderley again . . .
The novel begins in Monte Carlo, where our heroine is swept off her feet by the dashing widower Maxim de Winter and his sudden proposal of marriage. Orphaned and working as a lady's maid, she can barely believe her luck. It is only when they arrive at his massive country estate that she realizes how large a shadow his late wife will cast over their lives–presenting her with a lingering evil that threatens to destroy their marriage from beyond the grave.
---
That's it! What was published before you were born that you love? What do you think of my list?
Pin This Post