Summary:
Sophie's got it all. A successful career that allows her to travel around the world and an apartment in New York City.
The book starts off with a girl's trip to Hong Kong, except after a few hours of being in the city Sophie's friend takes the first flight back home to be with her boyfriend she can't stand to be away from, leaving Sophie to explore alone. Sophie enjoys her first night on the town and meets Carson, an artist traveling the world with no agenda.
The instantly hit it off, but when it comes down to deciding where life takes her after Hong Kong, she opts for the less risky route — back to NYC. 
Will Sophie stick with her 5-year plan or will she take embark on an adventure with Carson?
My review:
Overall, I enjoyed this story. It was a light read and a fun escape. I myself am seeking a little more adventure in life, and travel has always been top on the list.
In this story, there's a little bit of everything: adventure, love and real life. You'll find yourself dreaming about where to next as you follow along with Sophie's choices throughout The Wild Woman's Guide to Traveling the World.
I realized after reading this book that I don't read a whole lot of travel stories and that has to change. I'd highly recommend this story for anyone looking for a little getaway.
About the author: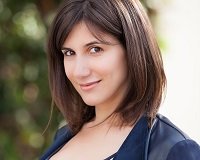 Kristin Rockaway is a native New Yorker with an insatiable case of wanderlust. After working in the IT industry for far too many years, she finally traded the city for the surf and chased her dreams out to Southern California, where she spends her days happily writing stories instead of software. Her debut novel, The Wild Woman's Guide to Traveling the World, was released from Hachette Book Group in June 2017. When she's not writing, she enjoys spending time with her husband and son, browsing the aisles of her neighborhood bookstores, and planning her next big vacation.
Find out more about Kristin at her website, and connect with her on Twitter, Facebook, Instagram, Pinterest, and Goodreads.
Where to pick up your copy:
I was provided an e-copy of this book in exchange for an honest review.