In October 2018, my family traveled to Europe to try and escape our grief after my brother's death. One of my favorite places on our trip was Venice, Italy. As I read All the Lost Places I felt like I was back in the city with boat taxis and streets full of Venetian life. Amanda Dykes's descriptive narrative will transport you to another land from the comfort of your own home.
Keep reading to hear my review of All the Lost Places and to see a slideshow of some pictures from my time in Venice!
All the Lost Places Book Summary
When all of Venice is unmasked, one man's identity remains a mystery . . .
1807
When a baby is discovered floating in a basket along the quiet canals of Venice, a guild of artisans takes him in and raises him as a son, skilled in each of their trades. Although the boy, Sebastien Trovato, has wrestled with questions of his origins, it isn't until a woman washes ashore on his lagoon island that answers begin to emerge. In hunting down his story, Sebastien must make a choice that could alter not just his own future, but also that of the beloved floating city.
1904
Daniel Goodman is given a fresh start in life as the century turns. Hoping to redeem a past laden with regrets, he is sent on an assignment from California to Venice to procure and translate a rare book. There, he discovers a city of colliding hope and decay, much like his own life, and a mystery wrapped in the pages of that filigree-covered volume. With the help of Vittoria, a bookshop keeper, Daniel finds himself in a web of shadows, secrets, and discoveries carefully kept within the stones and canals of the ancient city . . . and in the mystery of the man whose story the book does not finish: Sebastien Trovato.
My Review of All the Lost Places
"I only ventured out at night, and all the better if it rained." From the very first line, I was captivated by Amanda Dykes's novel. The imagery in her novel is so enthralling that you can't help but get lost between the pages. Her story is not only well-written, but it shares a message that many need to hear: "You're not the only one." In her author's note, Dykes talks about how she wrote the story for other people facing a "lost place." As I read her novel, I related to both of the characters and their desire to find their place in this world.
It took me a while to figure out the structure of the story, but once I became familiar with Sebastien and Daniel, I could easily switch between their two storylines. As Daniel scoured the streets of Venice searching for the Book of Waters, I reminisced on my time in Venice nearly 5 years ago. Memories of the city that I thought were long gone suddenly sprang to the surface of my memory, and I found myself excitedly telling my family about the novel while at Sunday night dinner. In reading about Daniel and Sebastian's experiences
When Daniel first visited Vittoria's bookshop, I could almost smell the scene. I visited Alta Aqua Libreria on my trip to Venice, and it had a very similar aesthetic to the bookshop described in All the Lost Places. Daniel describes it, saying that "Bookshelves became avenues of lives, history, epics, fairy tales, all standing silent and waiting to be cracked open… giving the whole place a feeling of movement and magic."
I related the most to Vittoria. Her passionate enthusiasm for life and her city was well-written and enjoyable to read. Come to think of it, all of the characters were fun to explore and build relationships with through the pages of the novel, down to the stubborn bookshop owl, Robert Browning.
If you're looking for a book to take you away from the everyday struggles of reality, look no further than All the Lost Places. Though I will warn you: You'll want to go to Venice after reading this book. I may or may not already be planning my next trip!
Bookshop.org | Amazon | Goodreads
Photos compliments of Brian Langlois, @ContinuousJourney on Instagram.
About the Author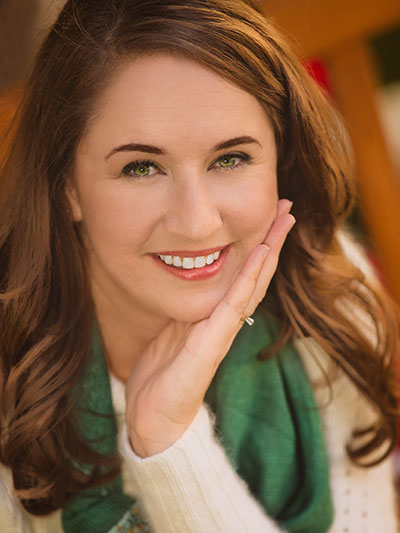 Amanda Dykes's debut novel, Whose Waves These Are, is the winner of the
prestigious 2020 Christy Award Book of the Year, a Booklist 2019 Top Ten Romance
debut, and the winner of an INSPY Award. She's also the author of Yours Is the
Night and Set the Stars Alight, a 2021 Christy Award finalist.
WEBSITE | TWITTER | FACEBOOK | PINTEREST | INSTAGRAM | GOODREADS
Advance Praise for Amanda Dykes's Newest Novel
"This lyrical dual-narrative historical from Dykes (Set the Stars Alight) dives into the histories of Venice, Italy, and Venice Beach, California."— Publisher's Weekly
"Introspective, surprising, and achingly beautiful."— Booklist starred review
"Dykes's pen is fused with magic and poetry. Every word's a gentle wave building into the splendor that is All the Lost Places, where struggles for identity and a place to belong find hope between the pages of a timeless story."— J'Nell Ciesielski, bestselling author of The Socialite
"Luscious writing, authentic characters, and an ending that satisfies to the core of the spirit, this novel is another winner from Amanda Dykes."— Heidi Chiavaroli, Carol Award-winning author of Freedom's Ring and Hope Beyond the Waves