I'm excited to be reviewing this children's book today! Zinger in the Woods is a very sweet story. You can find more information about the tour and the authors (including an interview) over on The Muffin. Plus, there's a giveaway!
Synopsis
Olive is searching for her missing dog Ginger, but the dog has fallen into a hole and is trapped. Along comes Zen, a homeless dog who helps free Ginger. Together, they make their way back to Olive.
Review
I love the illustrations in this book. They just look really pretty and fun, and I think they'd be compelling for the age group this book is meant for. I'd say the target age is around 7-8, but even my 2-year-old liked listening to this story. And of course, it has dogs in it, so she was smitten right away!
I like that the book is split into chapters so early readers can take breaks. I also like the message of the story, about friendship and exploring and being kind. I thought finding the word "amazeballs" in there was funny. Do kids still say that? Hahaha.
Overall this is a very sweet story that I'd recommend reading!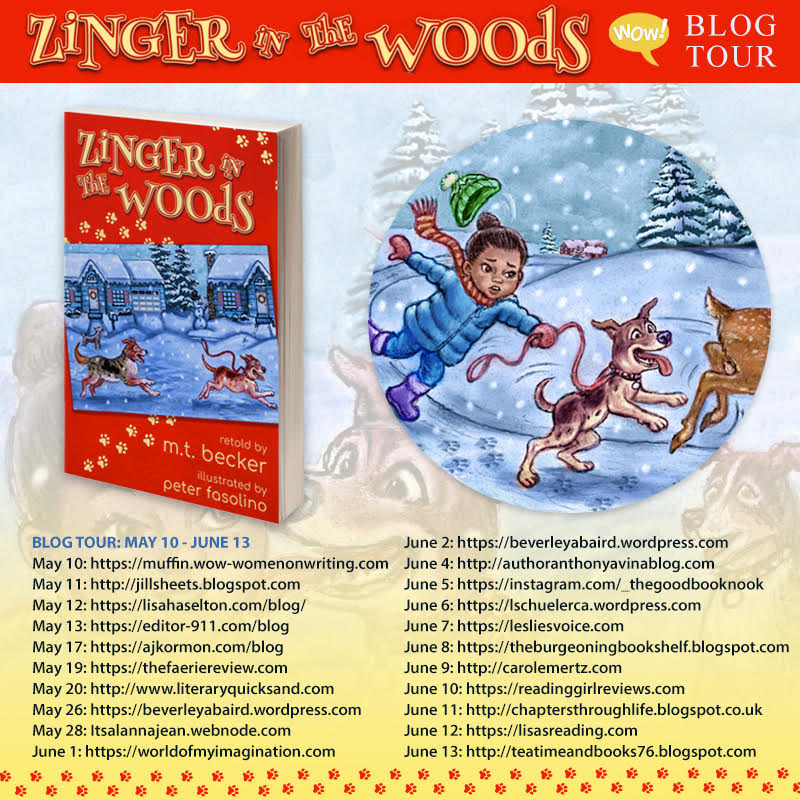 About the Authors
Zinger In The Woods was retold by husband and wife authors, Mark and Tiesha Becker. The former elementary school teachers decided to write a book after fostering three malnourished puppies. Zinger In the Woods reflects the lessons they learned from being parents, doggie parents, and teachers for over thirty years.
You can learn more about M.T. Becker on their website: www.live-grow-sustain.com.
Zinger in The Woods is available to purchase at Amazon.com. You can also add this to your reading list on Goodreads.com.