As a Minnesotan and a reader, I felt like I definitely needed to read a Lorna Landvik novel. Not only is she a writer, but she's also a comedian whose shtick is Minnesotan humor. Clearly something I need to check out! So, I waited for a while on the library hold list for Chronicles of a Radical Hag. I've heard good things about both Patty Jane's House of Curl and Once in a Blue Moon Lodge, but I decided to go for the new release.
The Summary
When Haze Evans's column first appeared in the pages of the Granite Creek Gazette, she earned fans by writing a story about her bachelor uncle who brought a Queen of the Rodeo to Thanksgiving dinner. Now, fifty years later, when the beloved columnist suffers a massive stroke and falls into a coma, publisher Susan McGrath fills the void (temporarily, she hopes) with Haze's pasts columns, along with the occasional reprinted responses from readers.
My Thoughts
This book started out pretty much just as I was hoping. It had all the references to Minnesota things, it was witty, and I wanted to know what was going to happen. I was hooked.
I really enjoyed how Landvik makes Haze Evans the book's main character, even though she's in a coma. Through flashbacks of Haze's and her newspaper columns, you really get to know and love this woman who has spent most of her life writing for the local paper.
What I didn't love was how the book jumps between characters, without giving the reader much of any warning. You might be reading a chapter in Haze's voice, then suddenly you're in someone else's head, and you're not exactly sure whose for a few sentences or so. It was a bit confusing and pulled me out of the story several times.
Also, I wasn't in love with the last 1/3 or so of the story. While I'm all for a warm feel-good read, this was soooo syrupy sweet. The character Sam was especially an eye roller for me. He's the teenage son of the paper's owner, and Haze's columns influence his life and, well, open him up like a delicate flower. He suddenly opens up to his mom and finds a passion for something and, of course, they start talking about Haze's columns in his English class and he excels and endears himself to his classmates.
So, well I was really into this book at first, I couldn't help but roll my eyes at a lot of it. There were definitely parts that were just sweet enough, but some that went overboard for me. If that's something you like, though, you'll love this one!
3 stars.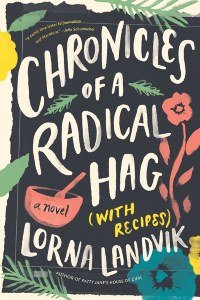 Chronicles of a Radical Hag
University of Minnesota Press
Hardcover
320