If you're looking for a beautiful family drama-style story set in the U.S. and China and spanning decades, you've definitely got to take a look at Where Waters Meet. Read on for my full review, and thank you to the author, Over the River PR, and Amazon Crossing for my copy of the book and letting me be a part of the book tour!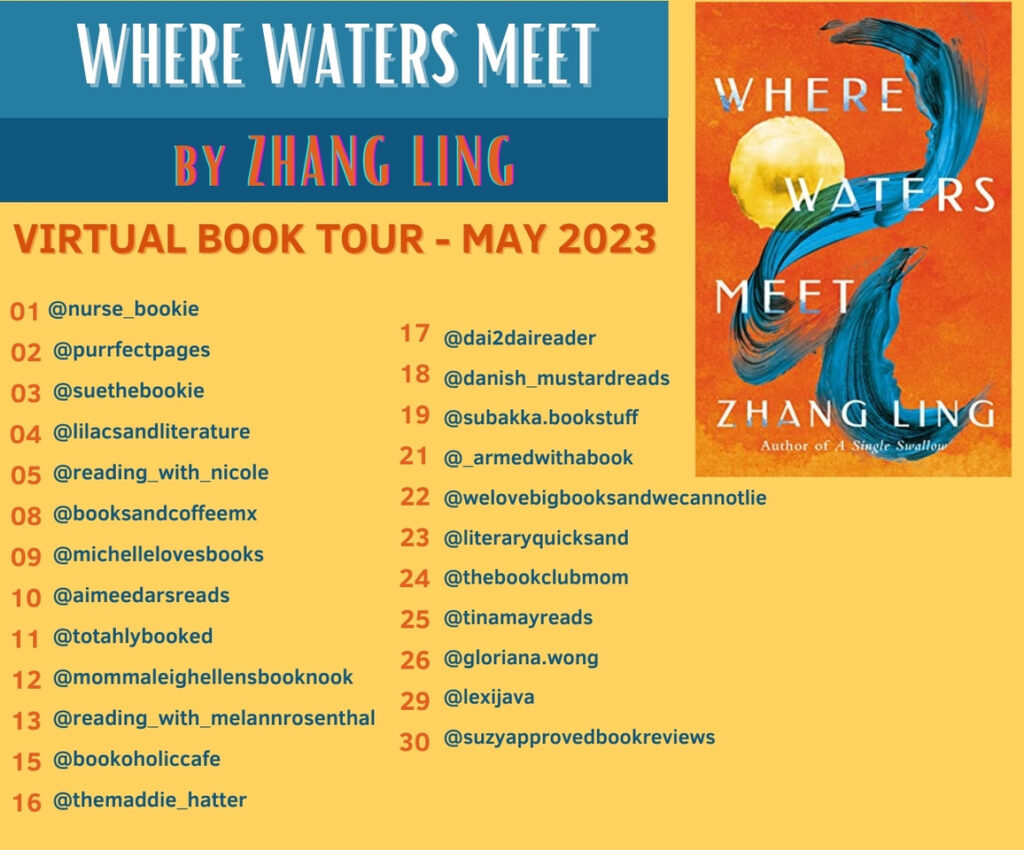 The Summary
A daughter discovers the dramatic history that shaped her mother's secret life in an emotional and immersive novel by Zhang Ling, the bestselling author of A Single Swallow.
There was rarely a time when Phoenix Yuan-Whyller's mother, Rain, didn't live with her. Even when Phoenix got married, Rain, who followed her from China to Toronto, came to share Phoenix's life. Now at the age of eighty-three, Rain's unexpected death ushers in a heartrending separation.
Struggling with the loss, Phoenix comes across her mother's suitcase—a memory box Rain had brought from home. Inside, Phoenix finds two old photographs and a decorative bottle holding a crystalized powder. Her auntie Mei tells her these missing pieces of her mother's early life can only be explained when they meet, and so, clutching her mother's ashes, Phoenix boards a plane for China. What at first seems like a daughter's quest to uncover a mother's secrets becomes a startling journey of self-discovery.
Told across decades and continents, Zhang Ling's exquisite novel is a tale of extraordinary courage and survival. It illuminates the resilience of humanity, the brutalities of life, the secrets we keep and those we share, and the driving forces it takes to survive.
My Review
Where Waters Meet is a really unique story that's actually told through the writing of a book…within the book. When Phoenix's mom dies and she starts to uncover secrets long held, she begins writing a book about her and her mother's lives. It's that book that we're reading.
The story starts out when Phoenix is a young child, just starting to notice that her home life is a lot different from the other children. Her father, a war vet with a traumatic brain injury, needs looking after and help. He's able to do a lot of things, but not quite in the same way as he used to. Her mom, Rain, is just trying to hold the family together and make ends meet.
After her father's death, life really gets hard for Phoenix and Rain. They lose the payments they were getting for Phoenix's dad and just barely manage to scrape by.
Throughout the telling of that story, we're also getting a look at what's currently going on in Phoenix's life as she grieves the loss of her mother and comes across some things in Rain's suitcase that bring up some important questions. It's then that she decides to fly to China to talk to her aunt and find out what really happened in her mother's past.
I really enjoyed this book. There was a little bit of a mystery element to it when we find out that Phoenix is heading to China to uncover her mother's secrets. You get pieces of her life both in the current time and back when she was growing up, which I really liked. It's a dual timeline novel, but doesn't feel so much like one because of the way it's written.
I'm a bit of a sucker for coming of age stories, and Where Waters Meet didn't disappoint in that aspect. The adversity that Phoenix and Rain had to overcome just to eat and survive was pretty astounding, and I don't often read stories like this one about growing up in China.
Overall, I enjoyed the story and the writing style. I didn't love Phoenix as a character for much of the story, though. It was hard to connect with her, as she seemed a bit emotionally distant. Maybe she's meant to, since you get to know her through the memoir-within-the-novel that she's writing.
The book also was written in quite a literary fiction type style, with a lot of artistic passages that were really pretty, but I did have an issue connecting with some of them. I'm not sure why, since I usually like flourishes like that! I might have just been in the wrong kind of mood for a serious book. Either way, I'm giving this one a solid 3.5 (rounding up to 4 on Goodreads) and a recommendation to read it if it sounds like it's up your alley.
Bookshop.org | Amazon | Goodreads