Anyone who knows me knows that I love a good book club. I joined my first when I lived in NYC and was looking for fellow readers; I found it on Meetup. Since I moved back to Michigan 5 years ago, I've been in 6 book clubs — not all at once, but usually 2 or 3 at a time. Right now, I'm in 3 book clubs, and that's what I'll be focusing on in this series. 
Each month, I'll share what my book club read, how the discussion went, what we ate (if relevant), and anything else that might help you and your book club choose their next pick! 
But first, a little bit about my book clubs:
Traditional Book Club
I'm calling this my traditional book club, because I feel like it's what most people picture when they picture a book club: a group of women who meet at each others' houses and drink wine and chat about the chosen book (sometimes a little, sometimes a lot, depending on the book).
This book club is my newest, but I can tell it's going to be a good one! We formed about 4 months ago when someone in my town posted on Facebook asking if any women in their 20s and 30s would be interested. I, of course, was enthusiastic about it. We first met up at a local bar to meet each other and discuss what kind of book club we wanted to be. I explained this model, since my previous traditional club had disbanded due to multiple members moving, and everyone was on board.
How it works: We each take turns being the host. Whoever hosts picks the book and provides the food when we meet. Everyone else brings wine (or another drink). We meet once a month, usually on the last Tuesday of the month so it's easier to schedule. We currently have seven members. (I personally think 6-8 is the sweet spot for this kind of book club.)
What's great about this kind of book club: Because the book is chosen by the host, we get exposed to books we may not normally pick for ourselves. So far we've read historical fiction, dystopia, contemporary fiction, and a crime drama. It also lends itself to forming friendships (or is an easy book club to create with a group of friends) — we've only known each other for a few months and already there are happy hours outside of book clubs, support for each others' "extracurriculars" and plenty of advice and stories to share. 
Meetup Book Club
For those of you who don't know, Meetup is a website that facilitates local groups where you can join people with similar passions (or start your own). Honestly, some of these groups can be hit or miss, but I found my NYC book club this way and I really love my current Meetup book club, which I've been in for 5 years and counting. The best part is, if there isn't one in your town, you can always try to get one going yourself! 
Though I didn't start it, I'm now one of the organizers, alongside my cousin. We've been "in charge" for about 3 years, ever since the original organizer stepped down because she was moving. We focus on "Good Reads & Good Eats," meeting at different restaurants each month and doing our best to get them to reflect the location or themes of the book we read (though sometimes that's harder than it should be). 
The group has about 40 members, but we limit each Meetup to 15 people. This allows us to make reservations and get served in a reasonable amount of time. We usually chat in 2-3 smaller groups just due to proximity. This group includes both men and women over a pretty wide age range; most of us are between 30 and 65. 
How it works: We meet once a month (on the first Tuesday) and people have to RSVP via the website to join us. There are usually 8-10 people who come every single time; the other 5 are a bit of a rotating group. We vote on each book (via the website) and the majority wins. I usually choose the books, but members are welcome to provide suggestions. We always choose books that are at least 1 year old, which gives members easier access to them at the library or in cheaper forms (like buying them used or in paperback). 
What's great about this kind of book club: Unless you're an organizer, like me, it's not necessarily an every-month commitment. You can choose the books you want to read and come when those are discussed. You also get to vote and actually influence what's picked. In the case of this one — where we go to restaurants — you get to try different places to eat in your community, and you may find a new favorite! 
Diversity Book Club
I work at an advertising agency that values diversity, and this is a book club that takes place across all our offices. It was started a couple years ago as a way for employees to explore diverse perspectives and learn from each other. I've always participated, but recently, I stepped up to run it and have been doing so for the past couple of months. 
These books tend to be heavier reads and often cover some pretty controversial topics. 
How it works: We meet about every 6 weeks, and we meet during the workday (our office provides lunch to attendees). As the organizer, I facilitate a discussion using questions that get shared via presentation — we usually cover 8-10 pre-set questions as well as anything else that comes up over the course of the meeting. I also typically share a video or audio clip that we discuss. Books are selected by vote and always align to a specific topic around diversity.
What's great about this kind of book club: Obviously, any time you can talk about books on company time, it's a win. But, more importantly, this book club helps to facilitate difficult conversations in a safe space and the discussions can be really eye-opening. We get to know our coworkers outside of normal work situations, which ultimately contributes to a more friendly and understanding work environment.    
And now onto
what we read and discussed in September:
Traditional Book Club
Defending Jacob by William Landay
This is a crime drama I never would've picked up if our host hadn't chosen it. At about 400 pages, I was expecting a long read, but it was quite a page turner and I finished it in less than two days (as did most of the members). I'm not usually a fan of crime-centric novels or thrillers as book club books because it feels like they're harder to talk about, but this one was actually great for conversation! The main plot point is left sort of open-ended, leading to lots of speculation on our part. 
Fun fact: The book is getting made into a series on Apple TV+ and will star Chris Evans and Michelle Dockery.  
Meetup Book Club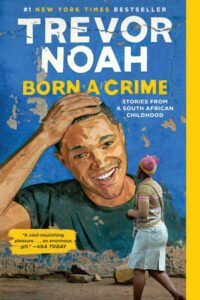 Born a Crime by Trevor Noah 
Trevor Noah's memoir about growing up in South Africa proved to be a very good book club pick. The stories of his childhood were surprising, funny and memorable. Despite it being pretty short, we still had loads to talk about. 
Where we ate: An Ethiopian restaurant that we'd been to once before. The whole experience was really fun — we all shared platters of food that you had to scoop up with a spongy bread called injera. 
Diversity Book Club
Evicted: Poverty and Profit in the American City by Matthew Desmond
(Topic: Homelessness and Economic Inequality)
This nonfiction book has been popular since its release in 2016 and actually won the Pulitzer in 2017. It was one of several nonfiction selections for this topic, but it won the overwhelming majority of the votes. We had a really engaging conversation about it (not always the case for nonfiction picks). We also listened to part of a radio interview with the author to help spur discussion.
Are you in any book clubs? Tell me about them in the comments. It's always so interesting to hear how people do them differently.
What book(s) did your group read and enjoy in September? I would love to hear your recommendations below!